Meet our musicians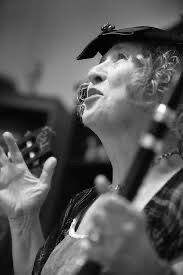 ADRIANNE GREENBAUM, pioneer of the klezmer flute tradition, recognized as the "Queen of Klezmer Flute", Professor of Flute at Mount Holyoke College, is the foremost purveyor of the klezmer flute tradition. Having reached International acclaim as both a klezmer and classical flutist, Adrianne performs on modern, traverso and 19th c. flutes and has performed in many national and international festivals and conventions: as soloist with orchestra at the National Flute Convention, solo recitals at the British Flute Convention, full concerts in the KlezMore Festival in Vienna, tours in US, Scotland and Poland with a variety of narrated themes that are both informative and highly entertaining, with dancing in the aisles being a must. 
Having received her upper level degrees from the Oberlin College Conservatory and Yale University School of Music, she has held professorships for five decades at prestigious colleges and universities previous to Mount Holyoke, those being Smith, Yale and Wesleyan. With performances of both klezmer and classical concerts across the globe, her career ranks amongst the finest musicians of her time. 
She began her career as a classical musician and has maintained her presence in the field performing recitals at universities, conventions national and local – British, National Flute Association, New York to name a few - and as an orchestral musician as Principal of both the New Haven Symphony (recently retired) and Orchestra New England. Highlights of her presence in the classical arena included many years performing with the New York City Ballet Orchestra, performances with New York's Mostly Mozart Festival, and as Principal flutist with Berlin Ballet at the Met. She can be heard in recordings of her own solo album "Sounds of America" as well as those produced by Koch International and Music Masters labels. 
As a klezmer flutist Adrianne has been crowned The Queen of Klezmer Flute, thanks to both a press comment and public opinion. Rising to prominence early on with her first album "FleytMuzik", performing with stellar musicians Cookie Segelstein, Josh Horowitz and Marty Confurius, attention was quickly and easily drawn to Greenbaum as the foremost exponent and pioneer of the klezmer flute tradition, a position held in high regard by her esteemed colleagues. Audiences as well have come to truly appreciate the instrument's special qualities because of such high level performing on the long-forgotten instrument of the ensembles of the past. 
Her FleytMuzik albums, with the above-mentioned musicians and more recently with Pete Rushefsky, Michael Alpert and Jake Shulman-Ment, as well as an earlier recording Family Portrait, produced by her first klezmer ensemble "Klezical Tradition", have been firmly placed in the core of the klezmer output of the late 20th and now 21st centuries. Her latest recording project Farewell to the Homeland: Poyln gained an appreciation from the public and from colleagues alike for connecting early klezmer bands of Poland – in particular the Frandt kapelye of Dubiecko, Poland – and continues to be presented in narrated form in concert. Other themed concerts with FleytMuzik include a narrated A Khasene far di Zisn Kale and her touring show Tartan, Baroque and Klezmer! 
A recently added klezmer project is the formation of "di naye froyen kapelye" a super group of five prominent North American women in klezmer, with Cookie Segelstein, Marilyn Lerner, Susan Watts and Lauren Brode. 
As Greenbaum has always enjoyed teaching, she is repeatedly invited to coach students of all levels, including KlezKamp, KlezKanada, and Boxwood. She also presents her own classes throughout the year, all ages and abilities
Fiddle/violin/viola/piano
Motivated by a diverse musical palette, violinist, composer, educator and bandleader, Benjamin Sutin grew up in Philadelphia where he studied with jazz violin legend, John Blake Jr for over 5 years. Benjamin's jazz background, coupled with his desire to express and share his roots through music has carved an interesting path, exploring the intersections between jazz, Latin music (appearing on Bobby Sanabria's Grammy Nominated album, "West Side Story Reimagined") and klezmer. Within the Klezmer/Jewish Music circuit, Benjamin has performed and/or recorded with such artists as Alicia Svigals, Yale Strom, Elizabeth Schwartz, David Licht, Eli Schwebel, Zhenya Lopatnik, Idan Raichel, Joey Weissenberg, Jake Shulman-Ment, Zisl Slepovitch and David Amram, among others. Benjamin also played 1st violin in the National Yiddish Theater Folksbiene's production of Di Goldene Kale in 2015 and 2016. During his studies at Manhattan School of Music, Benjamin compiled a student klezmer ensemble coached by David Krakauer. After graduating in 2015 he has been studying off and on with Alicia Svigals (founding member of the Klezmatics), while continuing his ongoing mentorship with Yale Strom who took him under his wing in 2012. In 2014, Benjamin founded Klazz-Ma-Tazz which has been described by NY Music Daily as "Epically Haunting Lynchian Klezmer Jazz". Their music, while rooted in the jazz idiom, explores a unique chemistry of worldly musical influences and are dedicated to performing and recording original compositions and uniquely reimagined interpretations of traditional secular Jewish music, catered to the nostalgically progressive audience of the 21st century. The band has released two albums, both of which have been heard on radio stations across the US and around the globe. Their most recent album, "Meshugenah" (2018) was released during City Winery's famed Klezmer Brunch series which has been a frequent venue for the band. In February, 2018 their arrangement of the folk song, "Svalava Kozatshok" went viral on Facebook with nearly 20K views. "Wild, yet reserved, the music of Klazz-Ma-Tazz will surprise you, excite you and calm you, all in one sitting". (Fred Stal, RG Magazine). On November 18, 2020 Benjamin released his newest album, Hard Bop Hanukkah - Live at Rockwood Music Hall with rave reviews from the likes of David Krakauer, Regina Carter and DownBeat Magazine. You can catch Sutin playing violin every Friday night in the congregation band at B'nai Jeshurun in Short Hills, NJ alongside the likes of Matt Turk (Music Director), Brian Glassman and a rotating roster of percussionists including the Klezmatics' very own, Richie Barshay. As an educator, Sutin has helped students get accepted into some of NYC's best performing arts high schools such as LaGuardia High School and SMS as well as prestigious college level music programs around the country including New England Conservatory and New York University.